Last Updated on
Introduction
For several months last year I was trying out various tiling window managers and here I offer my assessment of the ones I've used most.
Summary for the impatient
My outright favourite is Spectrwm because I find that it offers all the features I want without making things over-complicated. Configuration via the text file is easy and the commands quickly become intuitive and automatic. Dwm is almost as good as Spectrwm but lacks some features that I want. i3 seems to be a popular WM and is better known than Spectrwm, I like it quite a lot but I find Spectrwm more intuitive to use. Xmonad is an attractive WM but is irretrievably let down by requiring Haskell to configure it.
The window managers in more detail
1. Spectrwm
This is currently my favourite. Configuration by a plain text file is simple.   I should say that it is the most flexible and intuitive WM that I've tried.
Here are some screenshots.
Change master window (Mod + Return)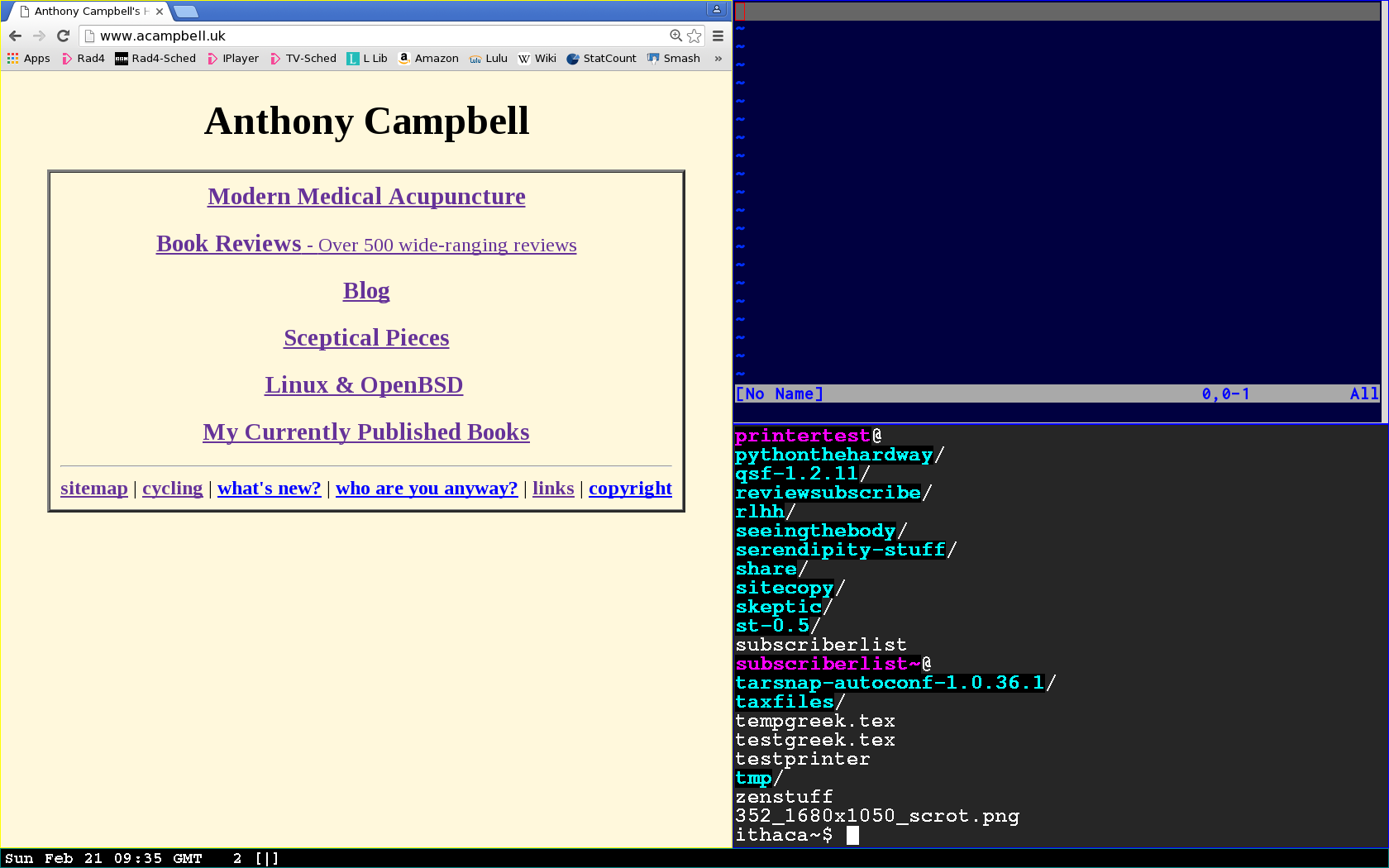 Enlarge master window (Mod + L)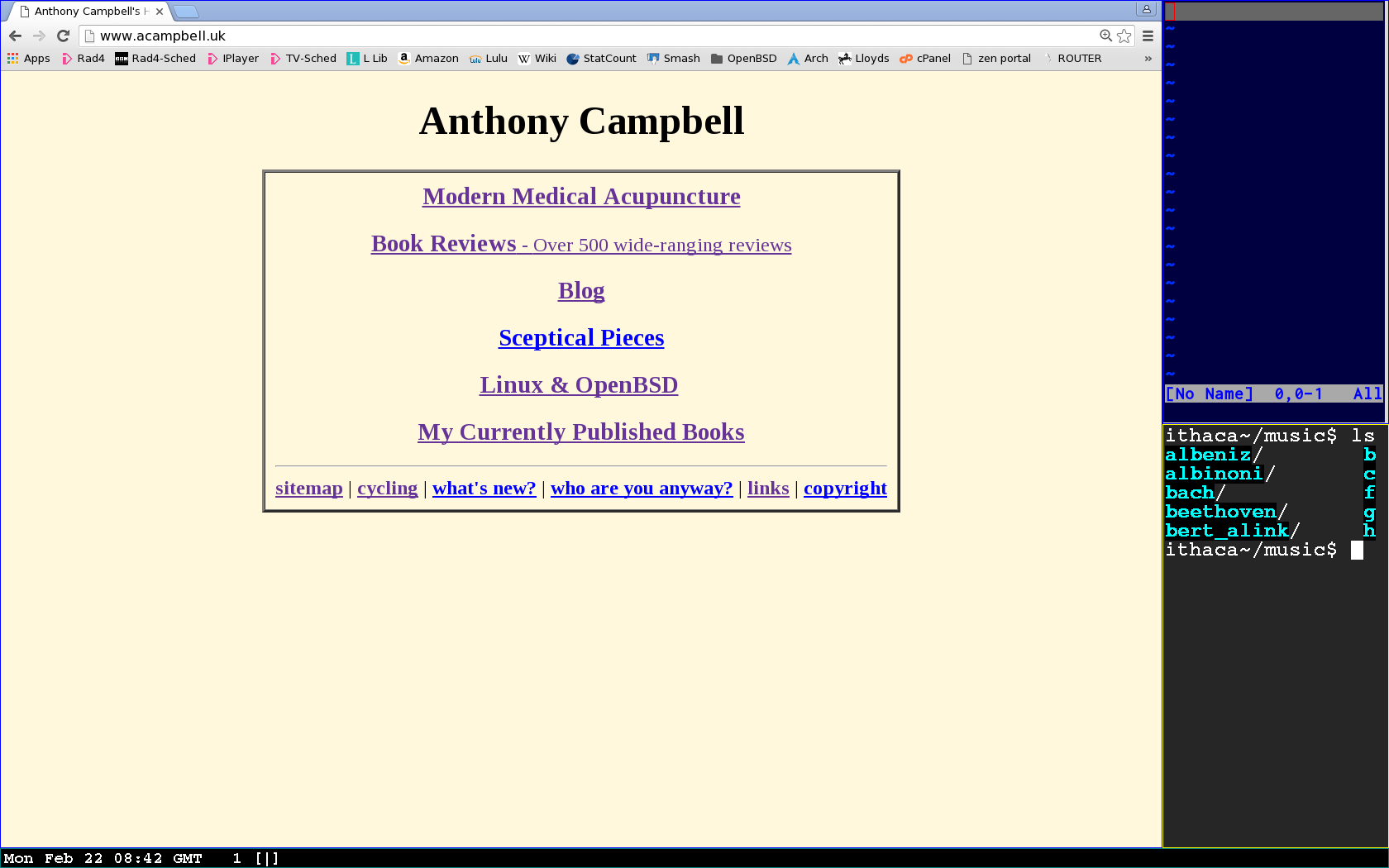 Change to horizontal split (Mod + Space)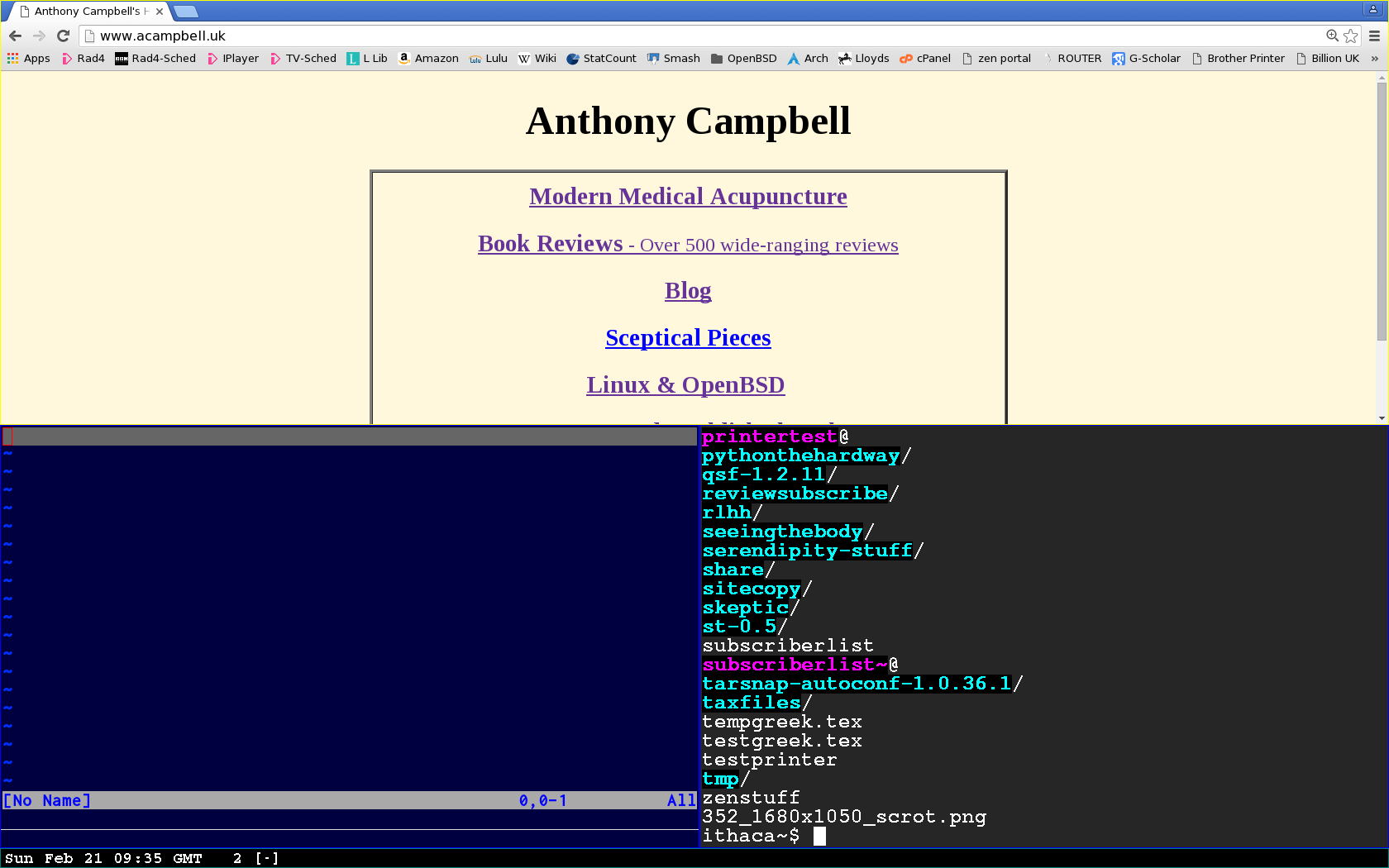 Make a window fullscreen.(Mod + E)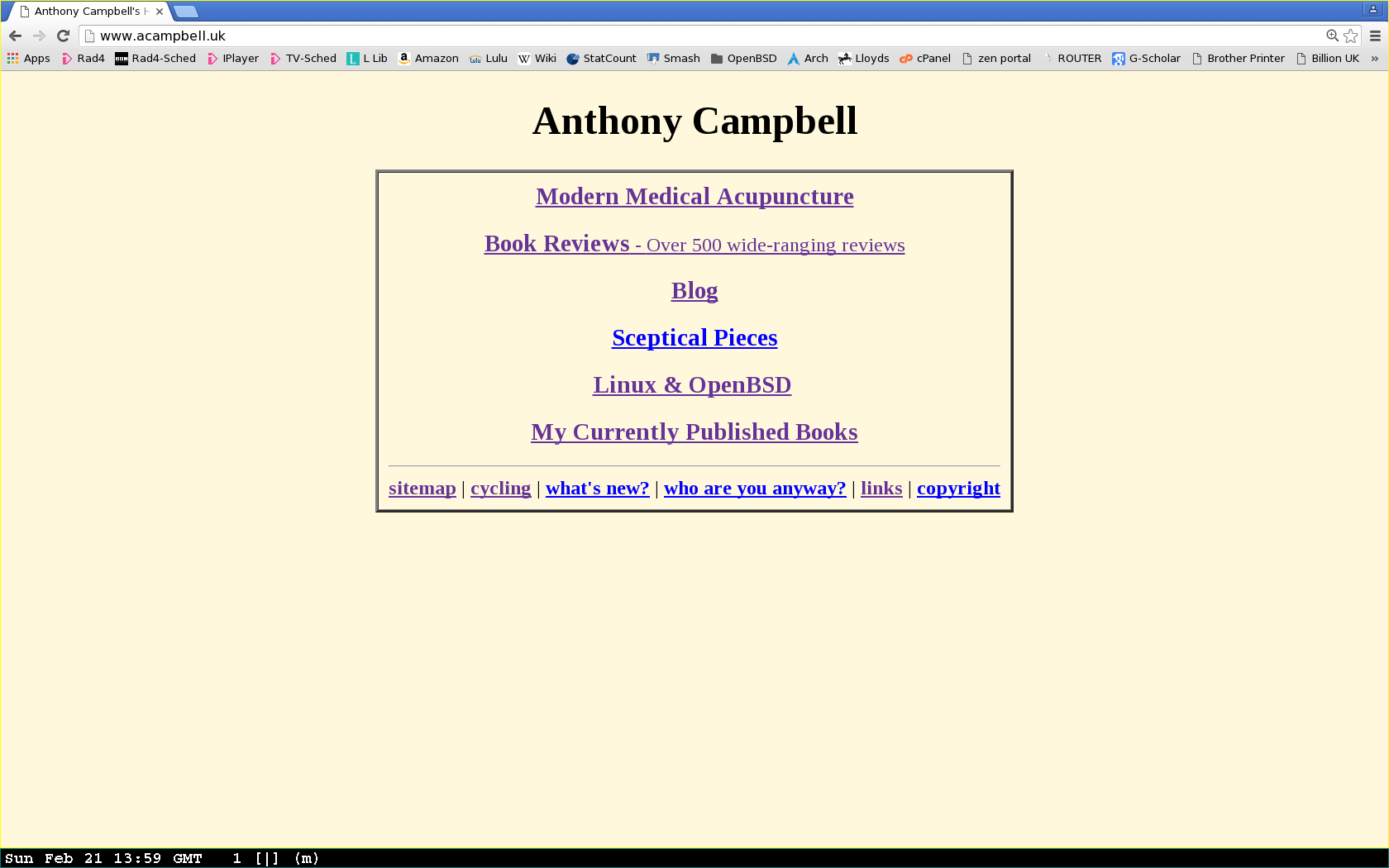 Switch to Workspace 2 from Workspace 1 (Mod +2 or Mod + R. arrow)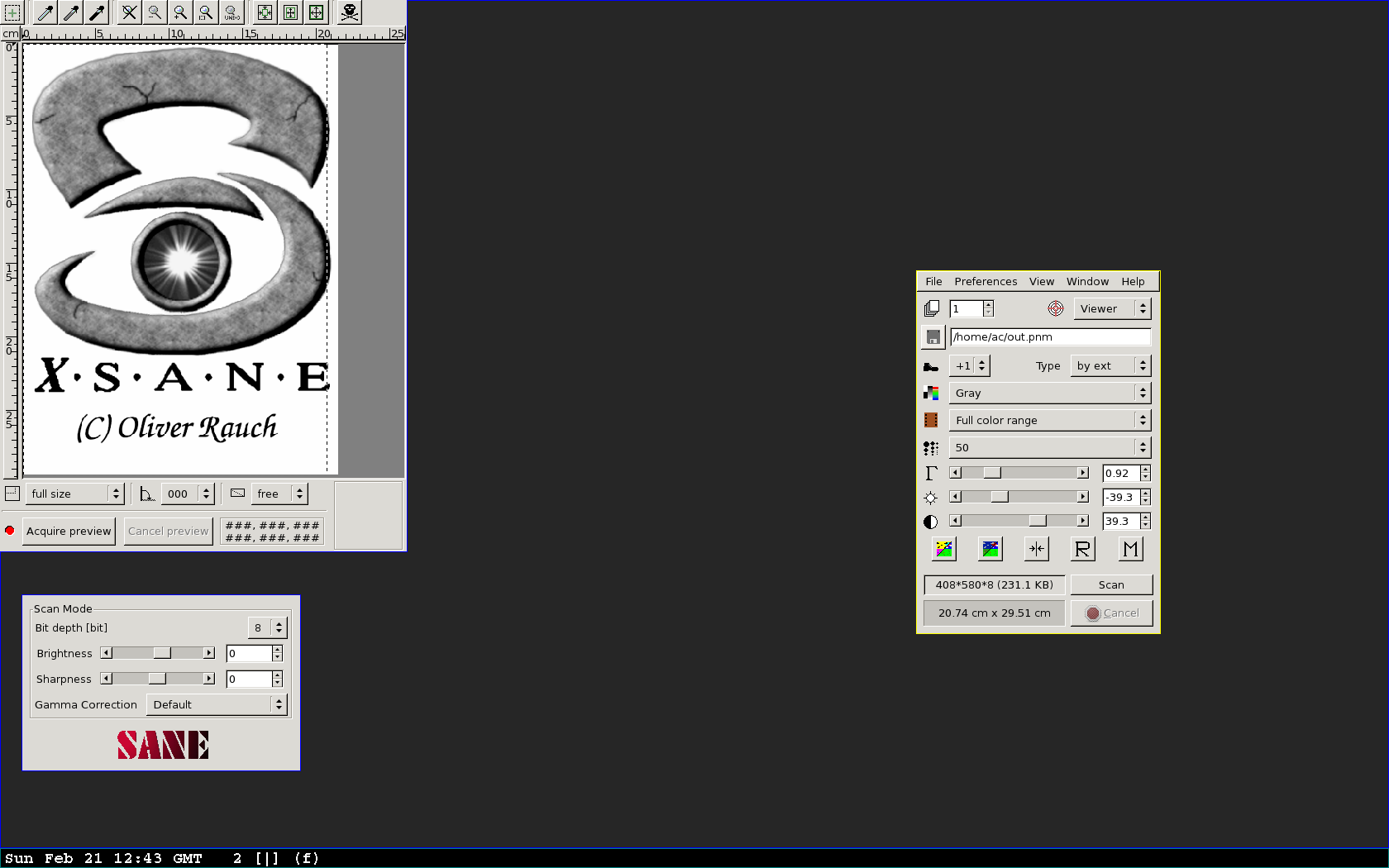 Note: the xsane windows are floating (set via Quirk in ~/.spectrwm.conf)
My Spectrwm configuration file
 2. i3
I liked i3 quite a lot and used it for a time. Configuration is simple since it is done in a plain text file. In many ways it is similar to Spectrwm but the way the windows are arranged is slightly different. i3 seems to be better known than Soectrwm with a larger following However, having tried out both of them fairly extensively I find I prefer Spectrwm.
I have a detailed comparison of Spectwm and i3 here.
3. Xmonad
This has a large user base and a helpful mailing list. It has many of the features I want and is quite similar to Spectrwm but is let down by its being configured in Haskell, which makes any configuration beyond the most basic a major undertaking requiring hours of research on the internet. There is also a large disk space overhead required to house the libraries needed for said configuration. For these reasons Xmonad loses out to its competitors, at least for me.
4. Dwm
Dwm is the forerunner from which many other tiling WMs forked. There is still a lot going for it: it's simple and functional and easy to learn. Configuration is via C, but don't be put off; it's easier than it looks even if you don't know C (I don't). If you are not willing to embark on learning Haskell, dwm would be an attractive alternative. If Spectrwn were not available I'd use Dwm.
Enclosing asterisks marks text as bold (*word*), underscore are made via _word_.
E-Mail addresses will not be displayed and will only be used for E-Mail notifications.